Printing Knives
American manufacturer of Web Press Folder Blades.
We stock a wide variety of Folder Knives for immediate shipping.

Custom Manufacturing in 3 to 4 weeks.
Ask us about our "Long Life" Coated Knifes for long run performance.
Printing Bindery Knives available at US Warehouse.
Precision Resharpening Services with Quick Turnaround.
Precision Tolerances with Laser Cutting.
Extremely Sharp and Uniform Teeth.
Quality Materials
Cutoff Knives

Cross Perforators

Slitters

Circular Anvils
Serrated Trimmer Knives
Non-Marking Urethane Jaw Blades
Tape Knives
Winder/Flying Splicer Knives Manufactured
Ink Fountain & Polyurethane Washup Blades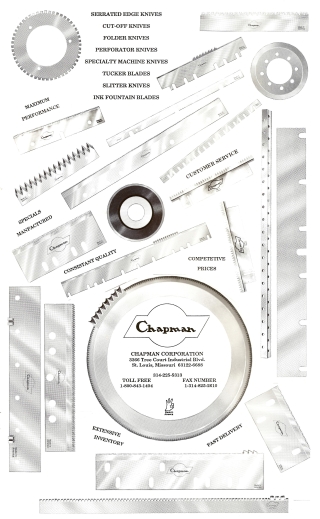 Packaging Knives
Manufactured from the finest grades of carbon, stainless and high wear tools steels. (Available with Long Life coating.)
America's largest manufacturer of serrated knives would like to introduce our expanded product line.
Quality, dependability and customer service have been the foundation of the Chapman Corporation since 1912.

3M
Amplas
Amotek
Autowrapper
Belcor
Bosch
Cryovac
Dusenberry
Eagle
Elgin
Fleetline
FMC
Fresco
Fuji
Gala
General
Gloucester
Hayssen
Hassia
Ilapak
Kister
Klockner
Lane
Lemo
Loveshaw
Multivac
Munchie
PacMac
RoboPac
Rovema
Sandiacre
Sig/Doboy
Signode
Soco
Tam
Tevopharm
Tiromat
Transwrap
Triangle
Volpak
Weber
Wilton
Woodman
Wrapade
Wright Machinery (Monobag)
And Many Others!!